Games, like Caravan, Fraction War, and others, are an effective way to engage students in mathematics. It gets them to discuss mathematical principles and interact socially. Students practice math in a meaningful way that creates motivation. All the while getting repetition and continued practice in a fun and controlled environment.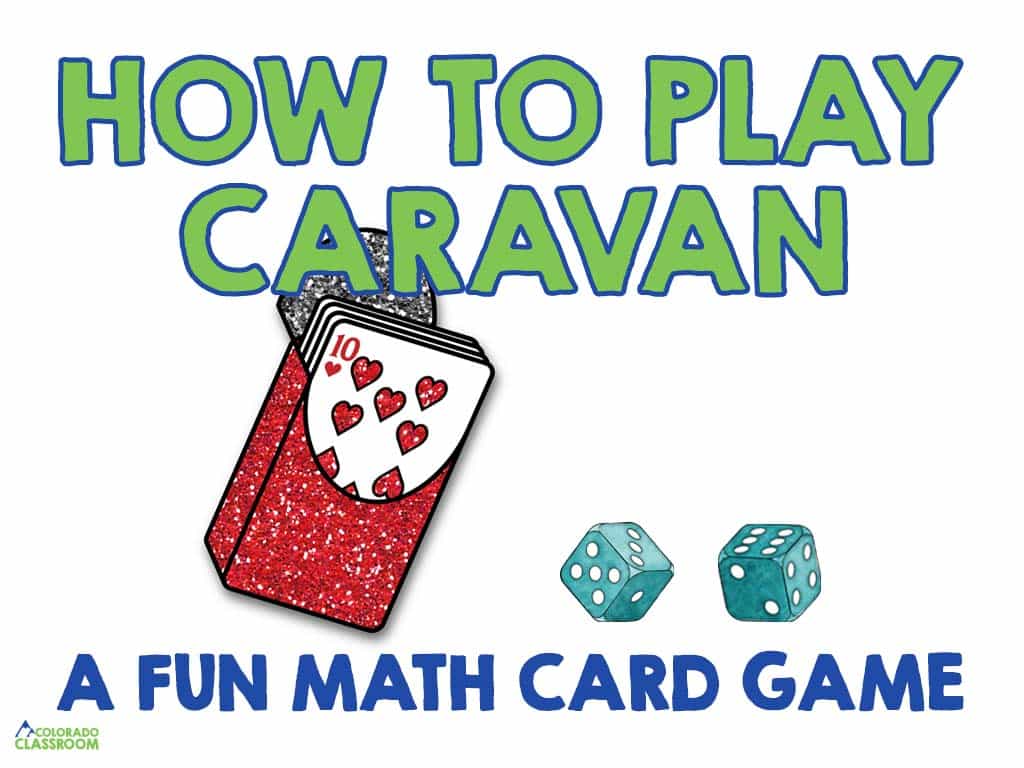 There are many different math games that can be played in the classroom, but most involve dice and/or cards. Caravan is one of those games.
Caravan Game Set-Up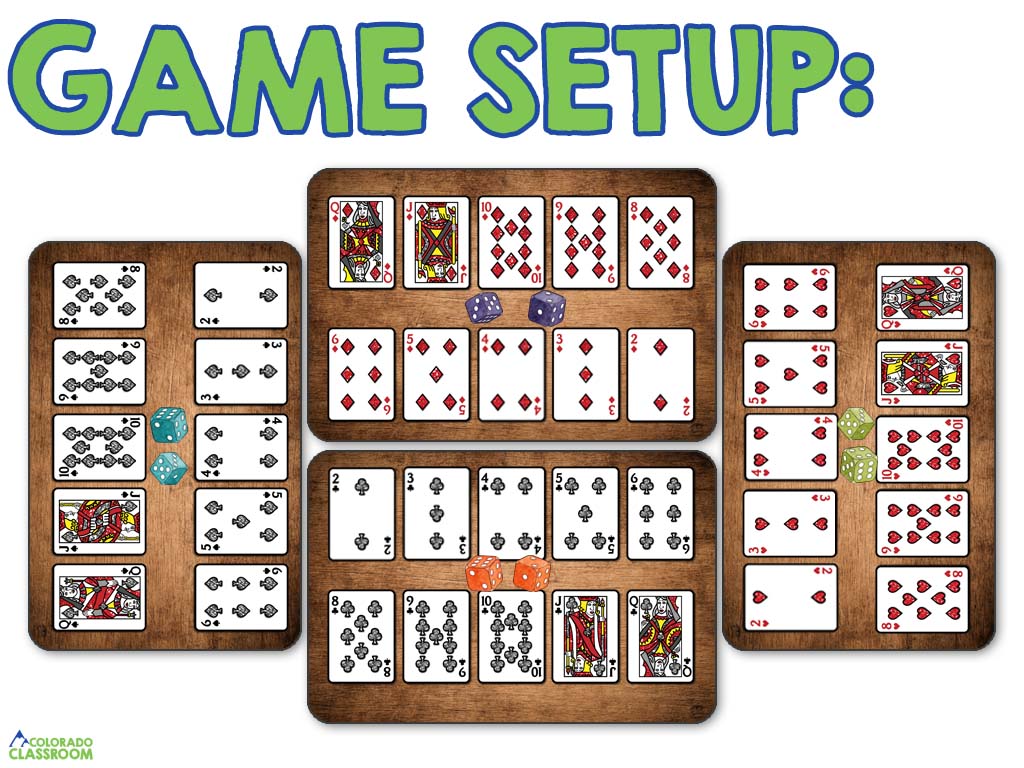 To play Caravan, divide the students into groups of 2, 3, or 4.
Give each group a deck of cards and have each student take a suit (hearts, diamonds, clubs, and spades) from that deck.
Place any aces, sevens, kings, and jokers back in the box; they are not used.
Students should take the remaining ten cards and place them face-up, in order- from least to greatest.
Each group or each student will also need a pair of dice.
And each student also needs a scorecard and pencil. It is easiest to take a sheet of paper and fold it in half both ways and then split it, giving one piece to each player in the group.
Game Play
Roll to see who goes first. Determine an order for the group and follow it every time. In my scenario, diamonds will go first.
The player with diamonds rolls a 4 and flips that card over.
They then roll an 11 and flip that card over
Next is a 10. That card is flipped.
Then a six.
And finally, they roll a 7. This signifies their turn is over and the play rotates to the next person.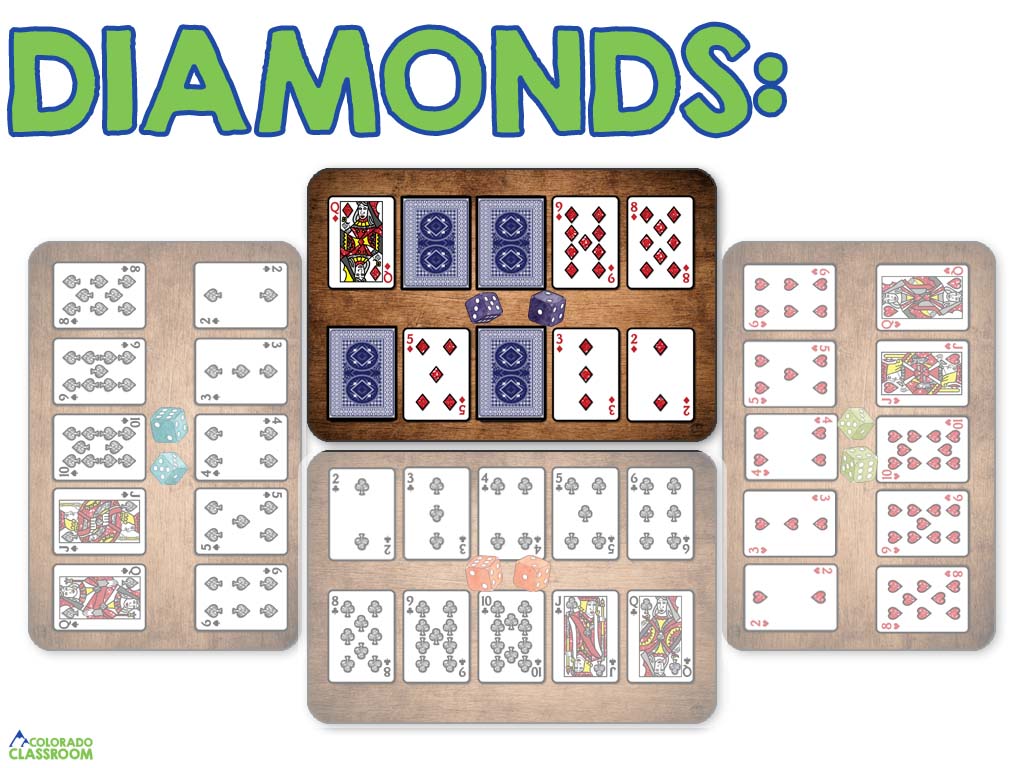 Next up is the heart's player.
They roll a 2 and flip that card over.
Next is a 10.
The next roll is a 5.
They roll again and get an 8.
Another roll produces a 12.
The next roll is an 11.
Finally, they roll a 7 and end their turn.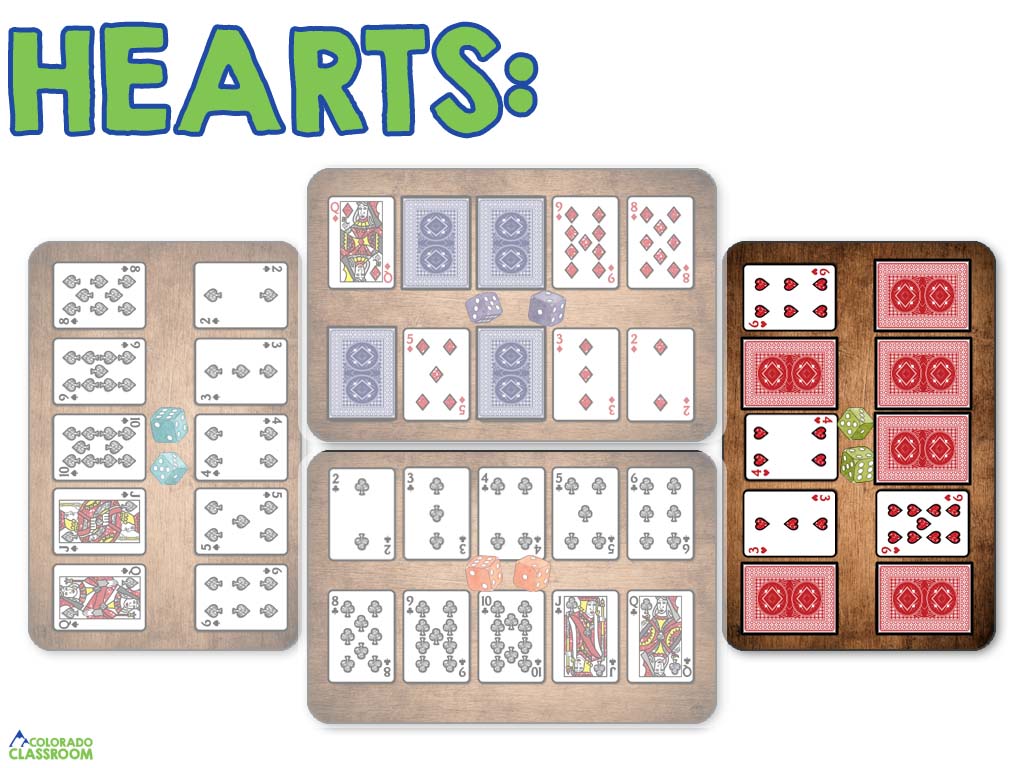 The club's player goes next.
They roll a 3 and flip that card over.
Immediately they roll a 7 and end their turn.
Next up is spades.
They roll and flip a 4, 12, 9, and 5, before rolling a 7 and ending their turn.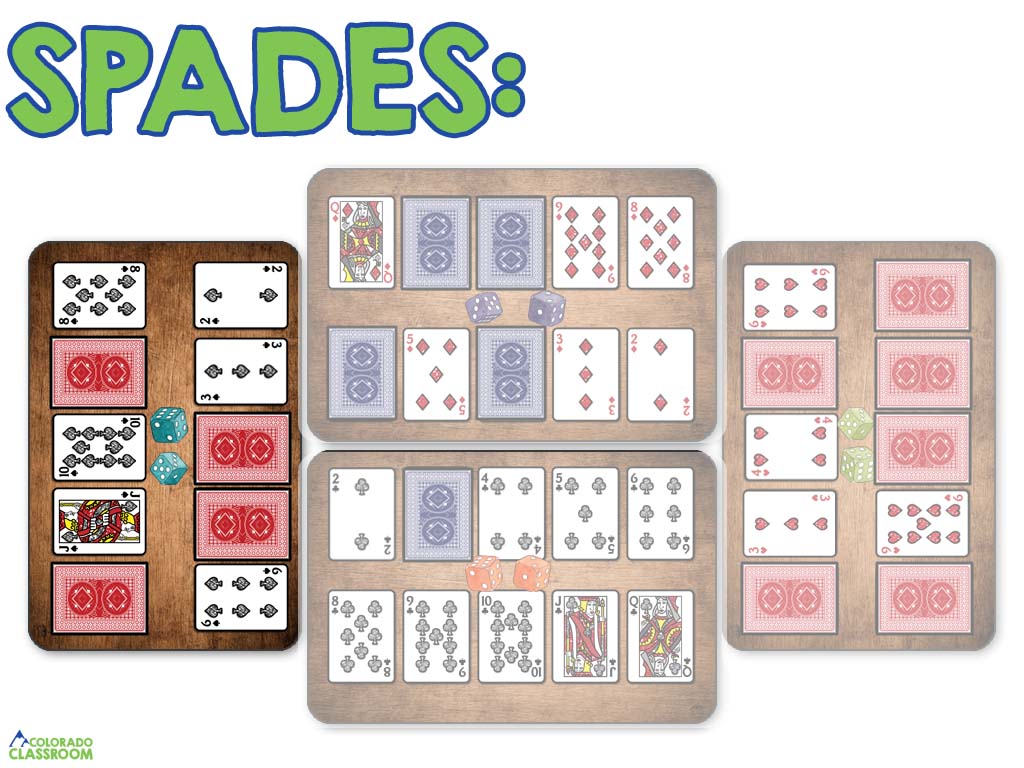 Play continues like this, around and around the group, until someone has flipped over all ten cards.
Winning Caravan
Once someone has flipped over all ten cards, they call out, "Caravan," so the whole room can hear it. At that point, play stops, and that person has won that round of Caravan. Their score is 0.
Everyone else adds up the total number of cards still face up with jack being worth 11 and queen being worth 12. Whoever has the highest number of points in each group must take their scorecard and rotate to another group, thus they must Caravan around the room.
If you play for 45 minutes to an hour, you can usually get around 10 rounds played in that time.
When a few minutes remain in the class, take time to celebrate various winners. Figure out who has the lowest point total. The highest point total. The number closest to 300, etc.
Making Caravan Pandemic Friendly
Unfortunately, we have a pandemic in our world and we must, to some extent, continue on with learning, despite this issue. So here are some ways to make Caravan pandemic friendly.
Sort the cards into suits and place each suit in a bag that travels with the student
Have each student carry their own pair of dice in their bag
Have wipes to wipe down each spot before students "Caravan" around the room
Or don't have students move from their positions and just skip that part
Printer-Friendly Caravan Rules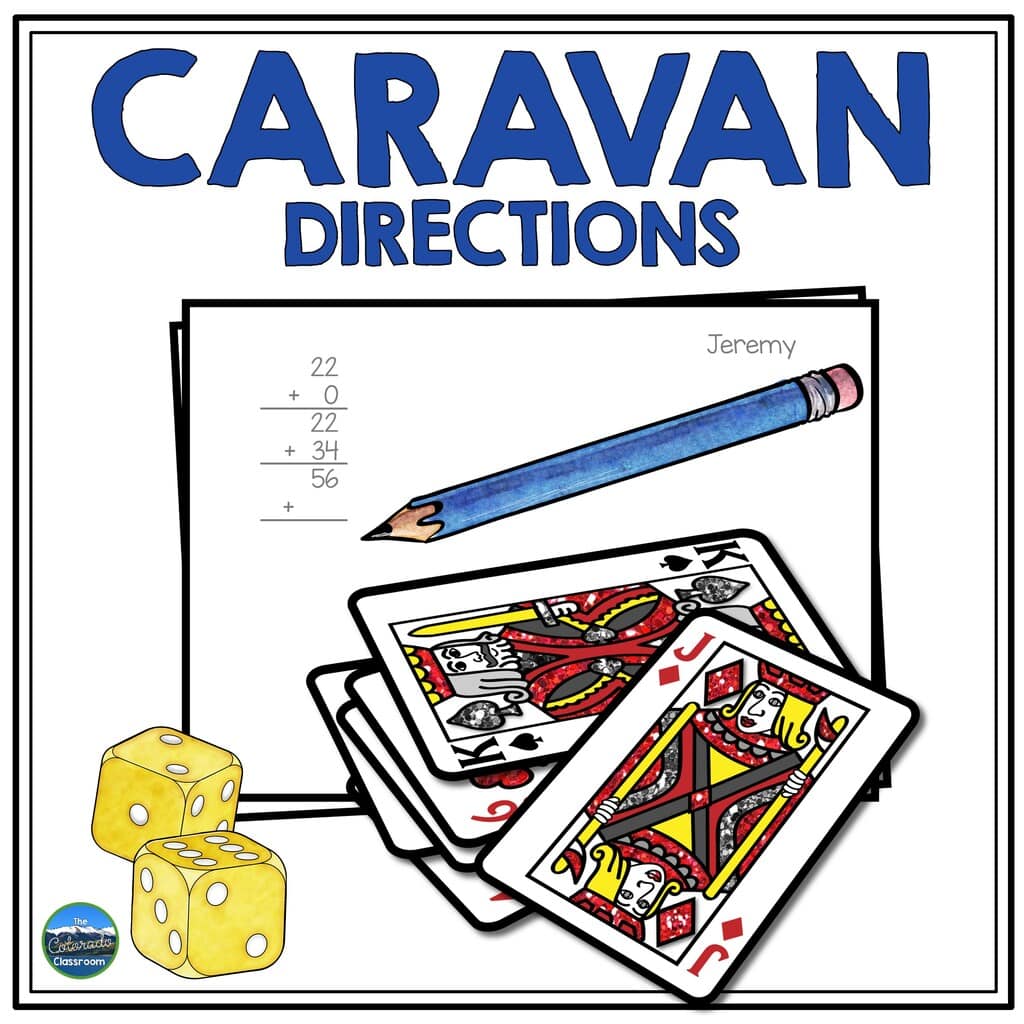 If you would like these rules in a printer-friendly format for yourself and your students, I have just the download you're looking for.
Simply click here to get the instructions for the game.
I hope you and your students will enjoy Caravan just as my students and I have throughout the years! If you're looking for other math card games, try my friend Ellie's Equivalent Fractions Go Fish Card Game.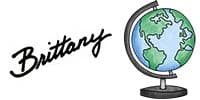 Dice images are from Digital Mojo. Card images are from Glitter Meets Glue.