Frequently Asked Questions & Technical Support
Should you need help logging into your account, downloading a resource, printing, or more, you will find the answers to your questions here on my FAQ & Technical Support page. Don't hesitate to contact me if you can't find an answer below.
Account Questions
How do I create an account?
Go to the ACCOUNT menu.
Enter a username, your email address, and a password.
Then click REGISTER.
Write down your password and username, so you can easily log in every time you visit.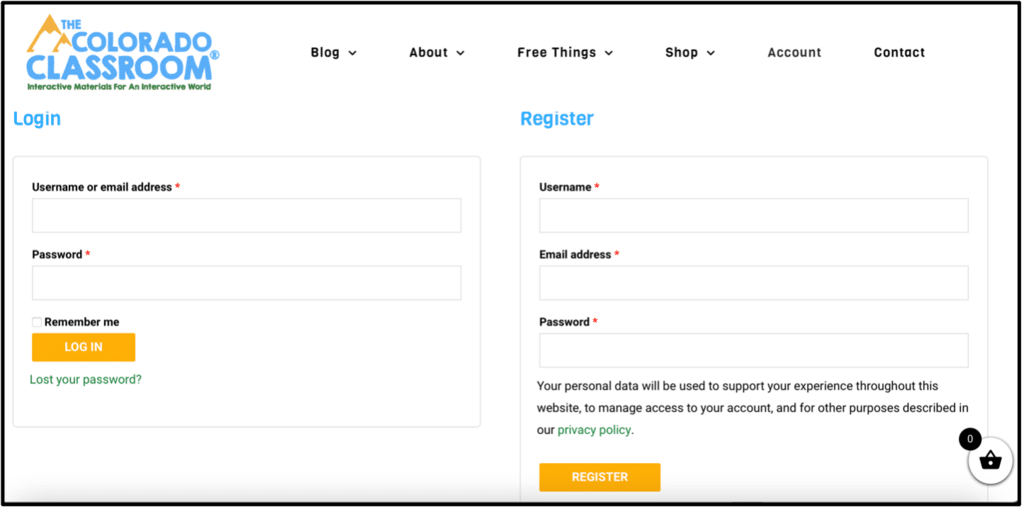 How do I log into my account?
After creating an account:
Go to the ACCOUNT menu.
Enter your information.
Check "REMEMBER ME" so you can stay logged in.
Log in to visit and download or purchase resources.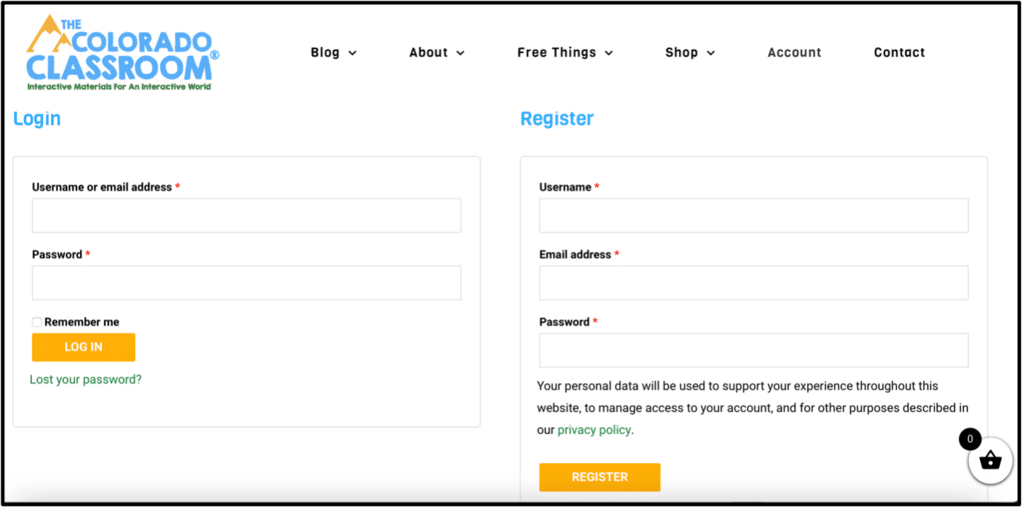 How do I reset my password?
If you forget or misplace your password, a new one can be created by clicking here to reset it.
Enter your username/email.
Click the RESET PASSWORD button.
Then check your email for a link to create your new password.
Be sure to use the same email address as when registering for your account.
Licensing & Terms of Use
Can I use the resources on Outschool or another commercial venture?
I am sorry, but I license my resources for personal use only at this time. Using them in a commercial venture would violate the terms of use of the clip artists and font makers I use in making the wonderful resources you see here.
What are your Terms of Use?
What do I do if a colleague asks for a copy of a resource I downloaded off your site?
Please show them how to make an account and find the resource directly from my store.
Please do not share, distribute, give away, or sell any resource you download from my store(s). Downloads are for a single-user license used by an individual teacher in their classroom. Any other use breaks copyright law. Thank you for abiding by this law.
Purchasing & Downloading Resources
Where can I find a receipt for my purchase?
After completing your purchase, you will receive an email with a copy of your receipt and download links to your purchased resource(s).
Please check your spam or junk folders if you don't see the email. Move the email to your inbox and mark it as "not spam" to prevent this from happening.
You can also log in to your account and view your orders from the orders link on the left.
Click ORDERS
Click on the order number to dig deeper into each purchase and view your purchasing history.

My resource has not arrived in the mail. Where is it?
These are all downloadable digital resources (PDF, PowerPoint, Boom Cards, ZIP Files, Google Links, etc.). They will be available for download after purchase.
What payment method can I use?
I offer multiple payment methods to fit you and your lifestyle.
When you visit the CHECKOUT page, towards the top, there will be a large black bar if you are interested in Apple Pay.
If you prefer to use a credit card, an area for your credit card number is available further down on the right.
PayPal is below the credit card area.
Choose the method that works best for you and follow the prompts, completing the information asked for and required to complete your purchase.
Your satisfaction is important to me, so please reach out for any problems so that I can rectify the issue. However, due to the digital nature of all products sold on the site, there are generally no refunds or exchanges.
How do I download my purchase?
There are generally three ways in which to download your purchase.
The easiest way to download your resource is to refer to your cart. Once you have checked out, the item(s) should link to a download for that resource on the right. Click on that link and download your purchase.
A second way to get to your resource is through the receipt email you will receive. After completing your purchase, you should receive an email with links to download the resource. Please check your spam or junk folder if you do not see the email. Move the email to your inbox and mark the item as "not spam." Then click on the link in the email to download the resource(s) you purchased.
A third way to get your resources is to log into your account and download the purchases from the downloads link on the left.
Windows/PC users:
Download the file you purchased to your computer.
Right-click the zip file.
Select "extract all."
Choose the destination for your file. I usually choose my "Downloads" folder, for example.
Click "Extract."
Mac users:
Double-click the zip file.
It should unzip automatically.
Website:
Both Mac and PC users can also use this website to unzip the file, so if unzipping it on your computer is not working, please use this website instead:
Decompression Failed:
If you get a Decompression Failed error, try these two things:
Disable the "Open Safe Files" option in Safari: Safari > Preferences > General > Uncheck "Open safe files" at the bottom of the window.
Try a different browser.
The downloads folder appears empty. What should I do?
Some files can be rather large, so it may take them considerable time to upload to the server or download to your computer, depending on connections. Please give it some time and then try again. If you can't access the files within a couple of hours, don't hesitate to contact me for support.
I purchased Boom Cards. How do I add them to my library on the Boom Website?
Download the PDF file that came with your purchase. There is a download link in the email receipt, or you can access the PDF by clicking the "Downloads" tab on the left.
You also need to log in to your account at the Boom website.
Once you've downloaded and opened the PDF file and logged in to Boom, scroll to the second or third page of the PDF, and you'll see an iPad that says, "Click here to access these Boom Cards." It looks something like this:
Click that page, and the computer will automatically add the Boom Cards to your Boom library.
Navigate to your Boom library to view and assign the Boom Cards you have purchased.
Resource Questions
Why do I have trouble printing?
First, ensure you fully download the resource to your computer without viewing it through a browser or previewer.
Secondly, ensure your PDF reader is up to date for the best results. If needed, update your software before trying to print again.
All resources in my store are high-resolution and meant to fit 8.5×11 inch pages. If borders are being cut off or are missing altogether, adjust your printer settings to "print entire page" or "scale to fit" (or something similar), and then try printing again.
How do I edit the editable resources?
Not all my files are editable. Before trying to edit, be sure you have purchased an editable PowerPoint file, such as a certificate set.
Be sure to download the PowerPoint file to your computer entirely.
Once it's fully downloaded, open the PowerPoint file.
Then type whatever you need into the text box.
Change the font, size, or style to suit your needs.
You can also add text boxes where you would like by going to INSERT and choosing TEXT BOX. You can change the font, color, size, and style from there.
Can I cover up your copyright on the resources?
Buyers may not remove or cover up my copyright statement.
Your purchase of the product indicates your agreement to the Terms of Use. Failure to comply is a copyright infringement and a violation of the Digital Millennium Copyright Act (DMCA).