Can you feel the excitement in the air as the back-to-school season approaches? It's time to kickstart another amazing academic year with all our organizational prowess. The teacher planner is one tool that's an absolute game-changer when preparing for the upcoming school year! This trusty sidekick is the secret to keeping your teaching life in order, from lesson plans and assignments to meetings and deadlines. Keep in mind that not all teacher planners are created equal. It's crucial to find the right planner that fits and suits your teaching style, preferences, and organizational needs. We are going to explore a few different formats of planners I have tried throughout my years of teaching, and then we're going to take a look at some other planner options that could work for you!
School-Issued Teacher Planner
When I first started teaching, I used the teacher planner that my school provided for us. As fellow educators, we all love a "free item moment" to make up for all the money we splurge on our classrooms. I quickly learned that this style of teacher planner came with its advantages and disadvantages.
First off, there's a sweet sense of consistency when all the teachers are rocking the same planner. It's like we're all on the same page, quite literally! This makes collaboration a breeze because we can easily understand and follow each other's plans. Plus, these planners are usually designed to align perfectly with our school policies and guidelines.
They've got sections for everything from attendance records to behavior notes and those pesky school forms. So, no more worrying about missing out on important administrative requirements. It's all right there, neatly organized in our trusty school-issued teacher planner.
On the flip side, there are two major bummers. They have limited customization and compatibility issues. We all know that every teacher has their own unique teaching style and organizational preferences, right?
But with a standard issue planner, we might feel a bit stifled. It doesn't always cater to our individual needs, and that can put a damper on our productivity and personalization game. It can lead to double the work and a total disconnect between our personal and school-based planning methods. Talk about a headache!
High Hopes for Erin Condren and Happy Planners
After the school-issued planner didn't work, I tried some different planners that were popular with my teacher friends. I gave Erin Condren Planners a shot, hoping for a planner that would revolutionize my organization game.
They were undeniably pretty and popular. While many teachers love them – it wasn't quite what I was looking for. I discovered that the layout just didn't match my needs. While you can customize the layout to an extent I didn't feel like the sections and designs aligned with my teaching style and the way I preferred to plan my lessons.
Similarly, I ventured into the realm of Happy Planners with high hopes, seeking a planner that would bring joy and functionality to my teaching routine.
This layout didn't quite fit what I needed either. Every teacher, depending on the courses and/or grade level is going to have different needs when it comes to planning. So while these popular planners didn't work for me, I know many people who love them. It's essential to remember that what works for one person may not work for another.
Digital Teacher Planners
I also dipped my toes into the world of digital planners.
There's a certain allure to the idea of having all my plans neatly organized and readily accessible at the touch of a stylus. No more paper stacks and sticky notes. I envy those tech-savvy teachers who effortlessly link their files, resources, and lesson materials directly to their digital plans.
It seems like a dream to have everything easily accessible from a tablet or device. As much as I appreciate the convenience and efficiency of digital planners, I found that they work better for my personal life rather than my professional teaching needs.
I enjoy the act of physically writing down my lesson plans, making notes, and crossing off tasks as I go. It allows me to stay fully present and engaged with my teaching process.
DIY Teacher Planners
Do you know what my absolute favorite teacher planner is? It's the one I crafted myself, customized to perfection with a double sheet layout, bound with a trusty spiral binding that I get done at my favorite office store. This is where the magic happens. I get to call the shots and design it exactly the way I want it.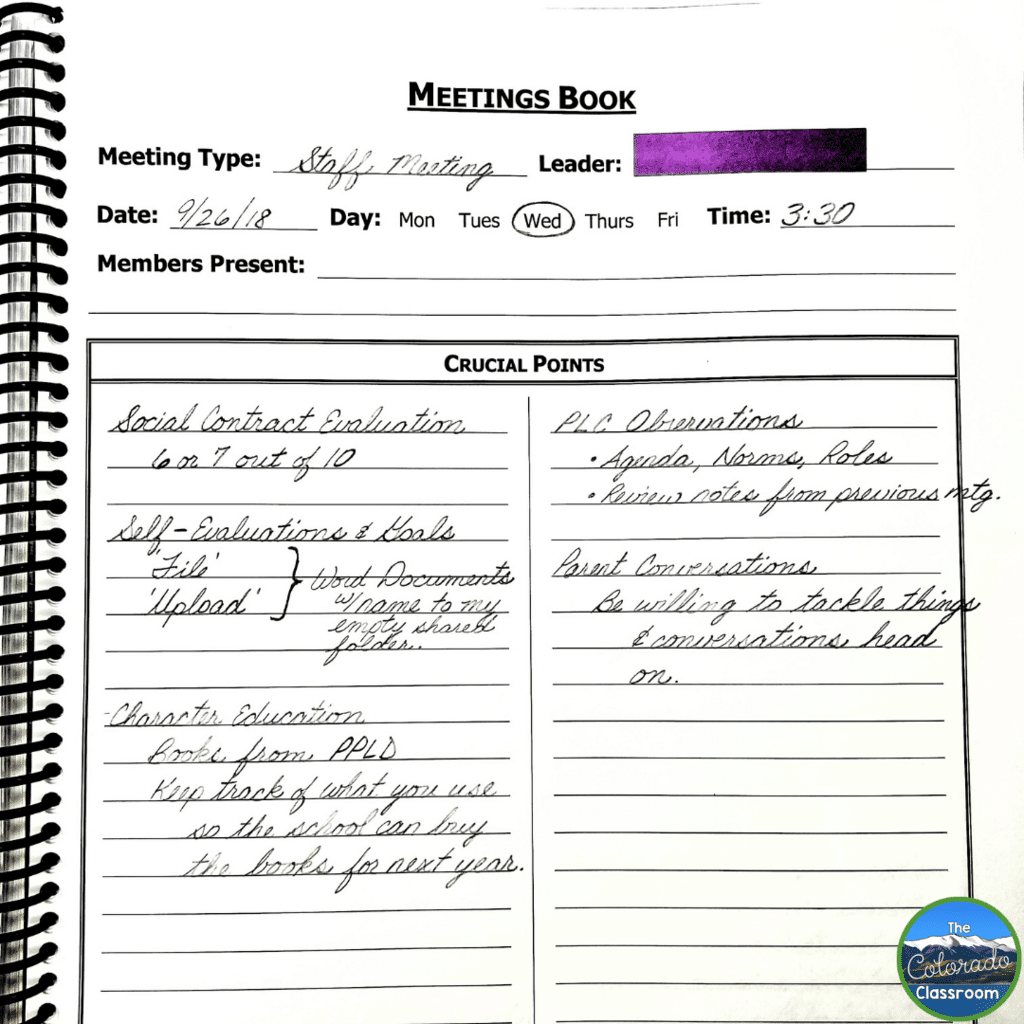 I include all the essential school pages that I need at my fingertips – directories, building layouts, and even those pesky directions for snow days that always seem to slip our minds when we need them the most.
Then comes the meeting section, dedicated to all those staff or grade-level gatherings where I need to take notes and keep track of important discussions. Finally, the heart and soul of my planner – my very own customized pages with my schedule, subjects, rotation times, and whatever else makes my teaching world go round.

It's tailor-made just for me, accommodating my teaching style and preferences. I can incorporate the year's popular administrative terminology, making me look like an expert. Or, I can stick to the tried-and-true terminology that has stood the test of time. It's my planner, my way, and it's a beautiful thing.
My DIY Planner Journey
Let me tell you about my DIY planner adventures and how I got there! They started way back when I used to craft my planners on good ol' Microsoft Word. I would create tables, merge and split boxes like a pro, all in pursuit of that perfect layout. I even dabbled in shading portions to give it a little extra pizzazz. But you know what? Times change, and so does technology. Nowadays, if I were to embark on the planner-making journey, I'd jump straight into PowerPoint. Why? Well, because it gives me that extra creative edge. PowerPoint, like other graphic design software, allows me to layer multiple elements on a page and move them around individually. I can play around with clip art, add some funky graphics and fonts, and really let my planner reflect my needs for the year.
If not PowerPoint, I'd use Canva. It's a magical online tool that takes your DIY planner dreams to a whole new level. With Canva's vast array of templates, design elements, and customization options, you can create your own planner masterpiece. From selecting the perfect layout to adding cute illustrations, Canva has got you covered. So, if you're ready to take your planner-making skills to the next level and infuse some serious creativity, Canva is your new best friend. Trust me, once you start using it, you'll wonder how you ever planned without it.
Still Searching for the Best Fit Teacher Planner?
There are plenty of other teacher planner options out there waiting to be discovered. You can explore specialized planner brands dedicated to serving the needs of educators, offering a wide range of layouts, designs, and features to suit different teaching styles. I have gathered a few more teacher planner options that might be the right fit for you!
Passion Planner
First up, let's chat about the Passion Planner! It's like a dream come true for us teachers who want more than just a regular planner.
This planner goes beyond just organizing our chaotic lives and dives deep into personal growth and goal-setting. The layout is fantastic, giving us plenty of space to jot down our lesson plans, important deadlines, and daily tasks.
But here's the real bonus – it's all about reflection, self-discovery, and achieving our goals. It has dedicated sections for setting long-term and short-term goals, monthly check-ins, and even weekly reflections.
With the Passion Planner, we can stay organized and find purpose and fulfillment in our teaching journey. It's like having a personal assistant and life coach all rolled into one.
So, if you're a teacher looking for a planner that's practical and helps you reach for the stars, the Passion Planner is definitely worth checking out!
Schoolgirl Style Teacher Planners
Next, let's take a look at the Schoolgirl Style teacher planners because they are seriously the cutest!
These planners are perfect for teachers who want to add some style and flair to their planning game. Seriously, the designs are so vibrant and eye-catching that they'll make you smile every time you open your planner.
And don't worry; they're not just pretty faces – these planners are super practical too. They've got plenty of space for all your lesson plans, to-do lists, and random notes that pop into your head during the day.
But here's the best part – they go above and beyond with extra sections for professional development, setting goals, and even getting inspired with classroom décor ideas. So, if you're a teacher who wants to stay organized while rocking some seriously stylish vibes in the classroom, Schoolgirl Style teacher planners are an absolute must-have.
Berteau and Co. Teacher Planners
Let me introduce you to Berteau & Co. teacher planners because they are all about that classy vibe!
These planners are like a fashion statement for teachers who want to bring some elegance and sophistication into their planning game.
Seriously, the quality and attention to detail are top-notch. The materials are so fancy, and you can tell they put a lot of love into crafting these beauties.
They've got all the space you need for your lesson plans, schedules, and notes.
Plus, they throw in some extra goodies like grade trackers, attendance logs, and sections for parent communication.
Berteau & Co. teacher planners are the perfect blend of functionality and luxury.
If you're a teacher who wants to plan in style and feel like a total boss, these planners are an absolute must-have.
The Teaching Texan Teacher Planners
Teachers should definitely consider getting the Teaching Texan planner for a few great reasons.
First of all, it lets you make it your own by customizing it with your name, school name, and year. Plus, they offer three stunning color schemes to choose from, so you can have a planner that looks as good as it works.
With handy features like a clip-in placeholder, stickers, folder pocket, and plastic pocket pouches, staying organized is a breeze. If you want to add extra pages, upgrade the coil color, or get more storage options, they've got you covered.
Best part? They'll hand-assemble your personalized planner and ship it right to your door. Talk about convenience! So, if you're after a planner that's stylish, functional, and totally customized just for you, the Teaching Texan planner is a no-brainer.
Blue Sky Teacher Planners
Last up are the Blue Sky Teacher Planners!
These planners, made by Blue Sky, are all about blending style with functionality.
They've got this modern and sleek design that's super eye-catching, making you feel like a planning superstar. They come in different layouts and sizes, so you can pick the one that suits your planning style.
These planners have got all the space you need for lesson plans, schedules, and important notes. Plus, they often throw in cool extras like sections for parent communication, goal-setting, and even some inspirational quotes to keep you going.
Blue Sky Teacher Planners are the perfect combination of style and practicality, making them a total game-changer for staying organized and looking good while doing it!
Choose the Teacher Planner that Works Best for You!
At the end of the day, it's all about finding the teacher planner that feels like it was made just for you, like a perfect match. Whether it's a school-issued planner that keeps things consistent, a DIY planner that lets you unleash your creativity, or even a stylish branded planner that suits your classy vibes, the key is to find one that fits your personality. Find the layout that just feels natural, the writing space that feels like enough, and the extra tools that support you and make your job easier.
Your planner should be more than just a tool for staying organized—it should be an extension of who you are as a teacher. So go ahead, explore the options, trust your gut, and find that magical planner that makes planning feel like a breeze while perfectly capturing your style. When you discover the planner that's just right for you, you'll have a sidekick that helps you conquer the school year with flair and confidence.
Save for Later!
Remember to save this post to your favorite teacher Pinterest board to help you prepare for an organized school year!