I did it today. I took the leap. I'm leaving my job in the middle of the year, and here are my reasons for quitting.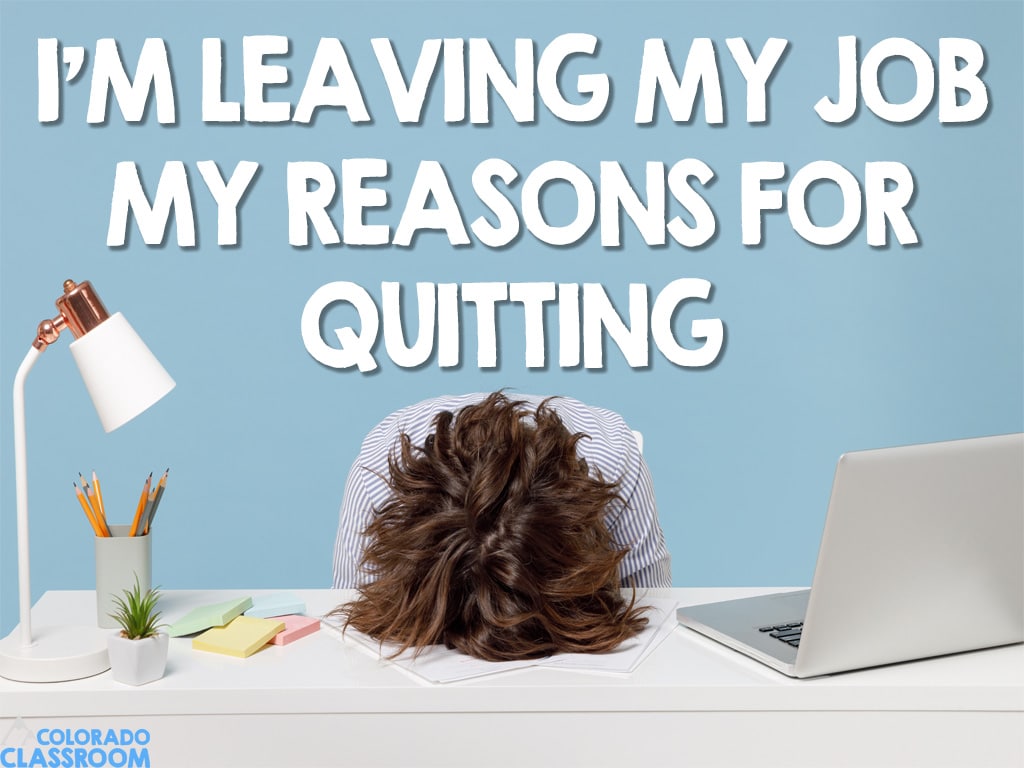 Why I'm Leaving My Job: The Reasons
Having previously dealt with depression and anxiety in the workplace (which you can read about here), after one rather tumultuous year, I became very sensitive to issues with administration. I was repeatedly told I was the problem, and I was an issue. So I became hyper-critical of myself. I took everything and anything to heart, and I laid all the blame for everything that went awry at my feet.
I had never planned on leaving my job. I had thought I'd live, breathe, and die a teacher. However, the blame became a heavy weight for my shoulders to bear. And even though I was no longer with that same administrative staff, it made me especially sensitive to any issues, especially those involving administration.
I entered this particular school year, though, happier than I had been in years. I felt the most ready and relaxed, recharged, and happy to go. It is the best I had felt before the school year started in my entire career. My room was prepared well ahead of time. All my papers were copied and on my front table, ready for the first days. I was gelling.
It All Fell Apart
Then it all fell apart. The moment the kids came and the demands started, I fell apart. Daily migraines of unconscionable pain took over. Uncertainty and insecurity swept through me. It was a daily struggle to get out of bed and go to work. Whether it was the stress of the parents, the ever-changing standards, the administrative expectations, the overwhelming paperwork, or all of the above, it had chewed away at me like a mouse on a block of cheese, and I was full of holes of insecurities and self-hatred.  
I was suffering from virtually daily migraines. My lifetime battle with depression and OCD was becoming much more challenging to manage despite my medication. Life was a struggle. So a group of people, who had my best interests at heart, intervened and decided I needed a break. Thus in mid-October, I took the remainder of the second quarter off under the FMLA act.
The Process
The next six weeks were a gigantic blessing.  I went from having six migraines per week to having two in 6 weeks.  That in itself was a life-changing event.  Yet, on top of that, my family told me they'd never seen me smile so much.  I was investing in myself and exploring my passions and hobbies, and I finally felt awake and alive again.  It was so rejuvenating.
So after two months (November and December) without a paycheck and living off my husband's salary while dealing with two catastrophes (a broken sewer pipe and a pet needing emergency surgery) as well as the holidays, we decided we could take the leap. I could leave my job and invest in myself and do what I needed to be happy.
Then just before winter break, my husband and I made the big decision. I wanted to give my administrator as much notice as possible, so around December 1, I went to school for a visit. It was then that I let my principal know I would not be returning in January. I was officially leaving my job. My reasons were my health, sanity, family, and the cost of the effort involved.
So I quit my job mid-year to stay home, take care of myself, and nurture my spirit and soul. As I told my husband when I walked back to my car and promptly got on my cell phone, "I feel happily irresponsible." It was the most incredible feeling I had had in years.
Investing in Myself
Leaving my job is a little scary, or should I say exhilarating, but I know it also isn't carved in stone.  Things change, life goes on, and if need be, I can be a "breadwinner" again. But until that time, I'm taking some time to better myself, develop my passions, and do what I love.