Each of these moments is covered in "History Minutes," a brief look at a time, place, or person in history.
What's the Purpose of History Minutes?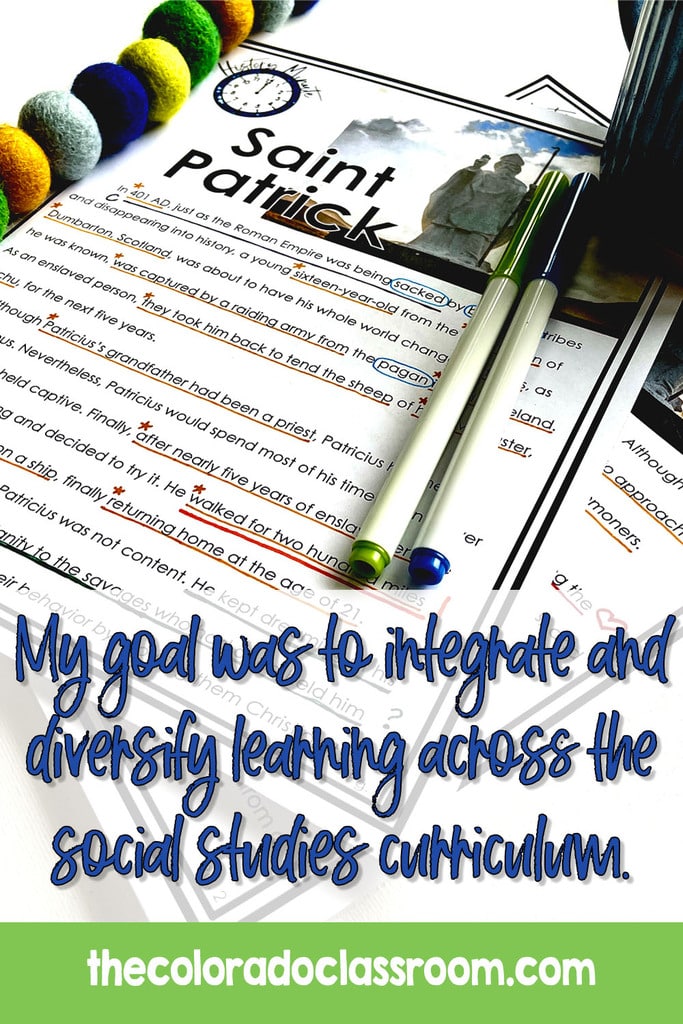 I created History Minute resources for a variety of reasons, but first and foremost, my goal was to integrate and diversify learning across the social studies curriculum. 
Social Studies isn't just about a date in the sand, or a person in the past. Social studies is about the stories that change the world. It's about how those dates and people and times and events shape the world. And all of that is about more than just social studies. It's about life and science, interaction and humans, psychology and feelings, math and relativity, and so much more. That's why it's not just a social studies lesson and it's not just 2-pages.
History Minutes are a geography snapshot, a close reading activity, a math or science lesson, word puzzles, guided and scribble notes, all centered around one central theme that is told, usually, in two pages.
I also just love the true stories of history. Just tell me a story about people and connections and how one thing can forever change the world, and I'm mesmerized. So in History Minutes, I attempt to hook students with interesting stories that haven't been told. I try to connect them to places by showing them what's cool or different that they maybe didn't know.
History Minutes also allow teachers to team up and tackle a subject. In the Saint Patrick lesson, your team can give the social studies teacher the main reading and the geography of Ireland pages. Have the ELA teacher take over the 5-part close reading lesson and word puzzles. Give the science teacher the mini-lesson on snakes. And together your team will have a fabulous co-curricular interdisciplinary plan for a day or two or three.
History Minute Components
Each History Minute runs around 30-40 pages, not including the black and white version or the answer keys. That might seem like a lot for a minute, but there are a couple of reasons for that. One is that integration piece. I wanted to include the various pieces for the various subjects. But two is that the story is from a moment or a minute in time, not that it will take you just a minute to complete. Here's a typical run-down of a "History Minute" packet.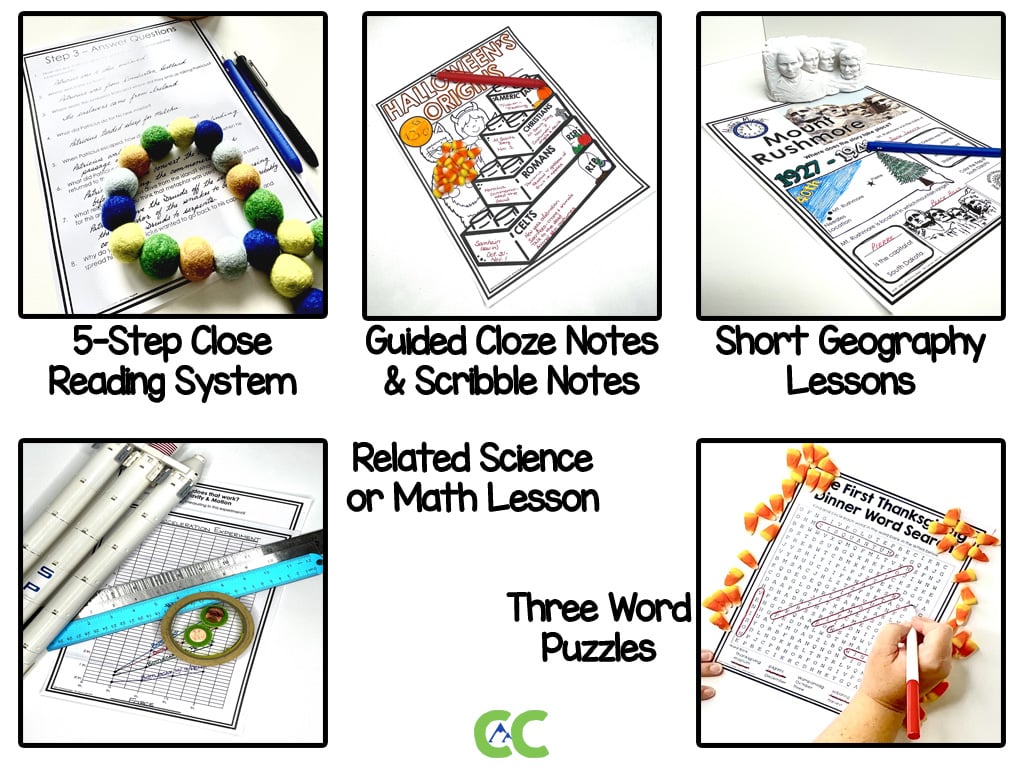 Read an article on the main focus
Use an annotation guide to annotate the story
Complete a 5-step close reading examination including

A look at main idea
Vocabulary challenges
Comprehension questions
Textual evidence and support
Writing prompts

Use cloze notes to check your understanding
Geography sheets teach about a state, country, or planet
A brief science or math lesson ties into the learning
Smart Scribbles allow you to summarize what you've learned
Three word puzzles wrap everything up and can also be used as bell ringers
Everything is then included in black and white or grayscale
Full-color answer keys follow
Digital versions are being added as quickly as possible, too.
Quick Ways to Incorporate Them
History Minutes allow you to cover a history topic briefly or go as in-depth as you would like. The versatility of this resource makes the options practically unlimited.
Don't have a lot of time? Just read the 2-page story.
Want to get in depth on Stonehenge and the Neolithic Age? Complete the 5-part close reading activity and then explore the magical ratio of pi with circles and polygons.
Want to split the work with a co-worker? You take the close reading section while you allow a colleague to work with students on the geography and science lessons.
Integrate all your history units and make your own History Minute type resources.
Use unusual readings or activities, such as The Cullinan Diamond for centers or station rotations,
Grab the First Thanksgiving Dinner History Minute and create a whole week or just a few days of activities surrounding the holiday. Blend it with a virtual tour to Plimoth or a thankfulness activity, as I describe in this blog post here and you've got a thoughtful celebration for the holidays.
Allow students to build excitement by using the word puzzles as bell ringers.
Best yet…if you're going to be absent and need something simple for your sub to do? Pull out a History Minute. Have your students explore the life of Marie Curie or learn about the Columbia Shuttle disaster. It's all at their fingertips and with the answers included, it should be virtually foolproof for any sub to accomplish when you're absent.
Let me know in the comments which History Minute you'd like to try out first.